EMAlert Assessment Tool to Identify and Prevent Food Fraud Risks

FoodChain ID's Decernis has exclusively partnered with Battelle Research Institute to offer a predictive analytics tool to identify vulnerabilities to global food fraud, also known as economically motivated adulteration (EMA). EMAlert™ combines data from various sources, including historical records from the Food Fraud Database, pricing information from U.N. Comtrade, geopolitical factors, and others to result in vulnerability score for raw materials.
To enhance the tools available to our clients for combatting food fraud, Decernis, a FoodChain ID company, licensed technology from Battelle that uses predictive algorithms to identify potential hazards in the global food supply chain.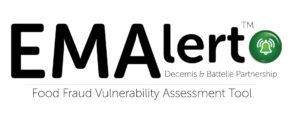 EMAlert, combined with the Food Fraud Database, provides food safety professionals with an online platform that enables the identification of potential vulnerabilities and hazards so they can comply with GFSI and regulatory requirements and put in place appropriate risk mitigation measures. The approach builds on a predictive analytics tool Battelle developed for the U.S. Department of Homeland Security.
Newly added enhancements to the EMAlert intuitive software tool, combined with integrating data from Decernis, a FoodChain ID company's Food Fraud Database, enable food manufacturers to rapidly analyze and understand potential food fraud vulnerabilities in their supply chain.
Download the EMAlert Brochure here.
Visit our Shop to order your subscription today.
Features
Newly updated, efficient and easy-to-use tool and risk dashboards
Provides quantitative estimates of an organization's vulnerability to food fraud for various commodities
Automatically compiles various data sources and information, including known fraud events, supply chain characteristics, economic and pricing information, the availability of authenticity methods, and geopolitical conditions in source countries
Convenient and economical, saves staff time and resources and immediately pays for itself
Client Login for EMAlert
Check out our blog for updates on the latest food fraud and food safety news.
EMAlert is a registered Trademark of Battelle.